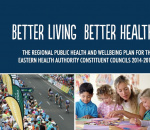 I
f you have an interest in the health and wellbeing of the community, the Council is seeking your input on the draft Regional Public Health Plan – Better Living Better Health.
The Plan outlines opportunities to promote and protect the public health of the community across 3 theme areas:
Environments for Health – including the built, natural and economic environmental features of the region which influence health (including transport, walkability and open space).
Capacity for Health - including lifestyle factors, community connections, access to services and community engagement.
Protecting Public Health - including immunisation, food safety, emergency management and public health services.
Download draft Plan and have your say
The Councils are now seeking public input on the draft Plan.
Download: Draft Regional Public Health and Wellbeing Plan
Survey: provide your input via this online survey
Alternatively, written submissions can be sent to:
Carlos Buzzetti
General Manager, Urban Planning & Environment
City of Norwood Payneham & St Peters
PO Box 204
KENT TOWN SA 5071
or email: cbuzzetti@npsp.sa.gov.au  
Submissions close 5pm 17 April 2015.